While the number of different icon sizes supported by Web app install- and bookmarking mechanisms grows, we're constantly adding these new versions to our icon upload processing, as well as to the affected deployment strategies.
With the latest update, introduced today, the number of versions grew to a whopping 16 different sizes. The latest additions are:
Firefox OS: 30×30px, 60×60px
iOS 7 and latest Apple devices: 76×76px, 120×120px, 152×152px
Chrome Mobile (install-to-homescreen): 196×196px;
Open Web Apps, Ubuntu Web Apps: 256×256px
We actually had to redesign our icon settings page in order to fit all these sizes in the UI. So, while at it, we also made it easier for you to directly reach the deployed icon files, as well as to see what the various versions are used for: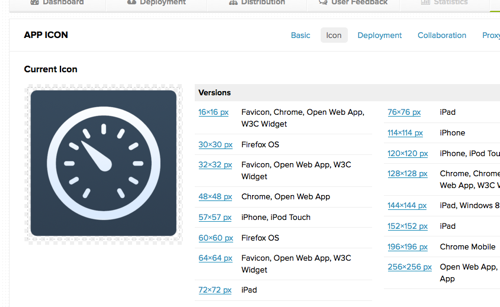 Next up in the icon department will be an improved uploading interface. And we'll obviously continue to add more icon versions whenever we see new vendor specifications for them.