Good news, everyone! We just launched new subscription pricing and higher usage limits for 5apps Deploy, effective immediately for all users. We're also giving you more insight into your apps' traffic via charts and numbers on the app overview and dashboards.
When we introduced Deploy, it was the very first service of its kind, and in regards to many features we offer, it still is. Since Deploy's beta launch over two years ago, we've learned a lot about the ins and outs of hosting client-side JavaScript apps and static sites, and this change reflects some of those learnings.
What changed?
Usage is now limited by transfer volume instead of HTTP requests.
The pricing structure of all paid subscription plans has been adjusted.
Why?
Over time, we've seen that our initial idea of limiting usage by HTTP requests partly fulfilled its goal of getting people to use AppCache in order make apps available offline. However, people love to host static sites on Deploy as well and AppCache doesn't make sense for those. More importantly though, it was never quite easy or intuitive to comprehend request numbers as a measure, let alone estimate future usage based on what happens when you reload your apps a lot during development periods.
Ultimately, the old pricing just didn't reflect the true cost of hosting high-traffic apps and sites. Let's take ToS;DR – one of the most popular sites on Deploy – as an example. As ToS;DR is using the platform as fast and reliable hosting for their JSON API as well, they generate about 20 requests per second on average. Which means that on good days, they crossed the 2-million request limit of our most expensive subscription plan in a single day.
Now, as an open-source project, ToS;DR enjoys free hosting on Deploy, but if it were a proprietary app or site, the new limits would fit their transfer volume of about 30GB per month well within our medium-size plan now!
What didn't change?
Although we did increase the price of our smallest plan, it happened because we didn't change one important property of Deploy's pricing: on paid plans, you can still set up an unlimited amount of apps, and all plans and usage limits are calculated per account instead of per app.
We also didn't change the fact that you can set up custom domains on our free plans. Soon, you'll even be able to purchase fully managed SSL encryption for your apps hosted with custom domains, independent of the plan you're on.
Existing customers
As a thank you to all our early customers, we have upgraded your account limits, but not your subscription price! So, until you change your plan, you will be charged the same as when you signed up, but with significantly increased usage limits. Enjoy!
Bonus: more insight
There's an additional improvement, which was made possible by how we log app usage now: starting today, we're giving you insight into the traffic individual apps and sites generate, via charts and numbers on your apps overview and the app dashboards. These stats include both transfer volume and number of HTTP requests: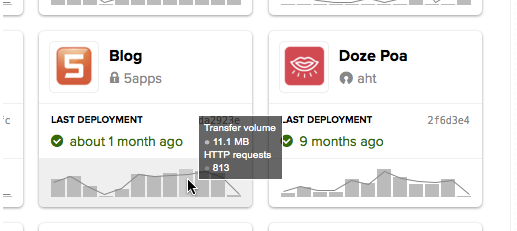 Questions? Feedback?
If you have any questions or feedback about our new pricing and usage limits, you can write a comment below, use our support site, or mention us on Twitter. We'd love to hear what you think!