About two years ago we first launched our system status dashboard, keeping you up-to-date with the live status of all our infrastructure components.
As an uptime company – hosting both your client-side apps and static websites, as well as people's precious personal data – we kept an excellent track record of keeping your things online and speedy since day one. But sometimes things just naturally go awry.
DDoS attacks on servers or whole networks, degraded hardware performance, and other problematic situations arise. And when they do, it's important to us that you're in the loop about what's happening exactly.
In order to fulfill that goal even better from now on, we just launched a completely new system status site: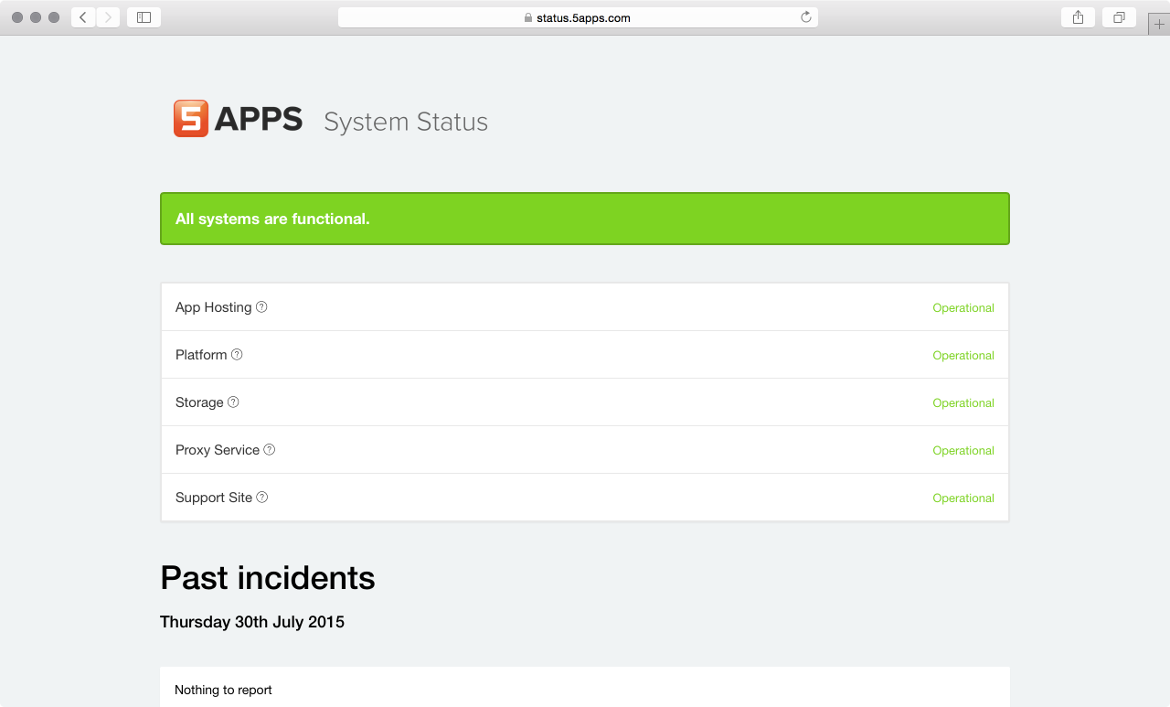 Our new site is based on Cachet, an excellent open source status page system. Compared to our old site, it brings some very useful improvements:
Status types are clearer and more exact. They now include "performance issues" (the most common one in day-to-day operations) and "partial outage", apart from the less common "major outage".
Incidents aren't tied to one service/component necessarily anymore. An attack on our whole network e.g. will be a single incident with a single update stream (while retaining correct status per service).
Better status types for incident updates, ranging from "investigating" to "solved"
First-class support for scheduled maintenance announcements and statuses
A single RSS (or ATOM) feed to subscribe to instead of one per service
There are even some additional features we're not using yet, but which we will set up in the near future. Namely email subscriptions, as well as displaying key metrics on the dashboard (like e.g. mean response time).
As was the case before, the status site is hosted outside of our core infrastructure, so that the likelihood of it being slow or unavailable when it matters most is extremely small.
Let us know if you like the new site, and be sure to check out Cachet in case you need something similar for your own organization or project!
---
P.S. I just realized that we launched this just in time for System Administrator Appreciation Day 2015. So, happy SysAdmin Day to our master of infrastructure, @gregkare, who's been doing an amazing job at 5apps and beyond! (He's also very funny on Twitter; you should follow him.)